Each crate of firewood that we sell holds just over half a cubic metre in volume. Air dried crates of firewood are £55* each and can be delivered as a pick-up load (2 crates at £100*) or in greater quantity with our trailer (a load of 6 crates at £280*). All material sold as firweood has been seasoned or kiln dried to 20%MC or below.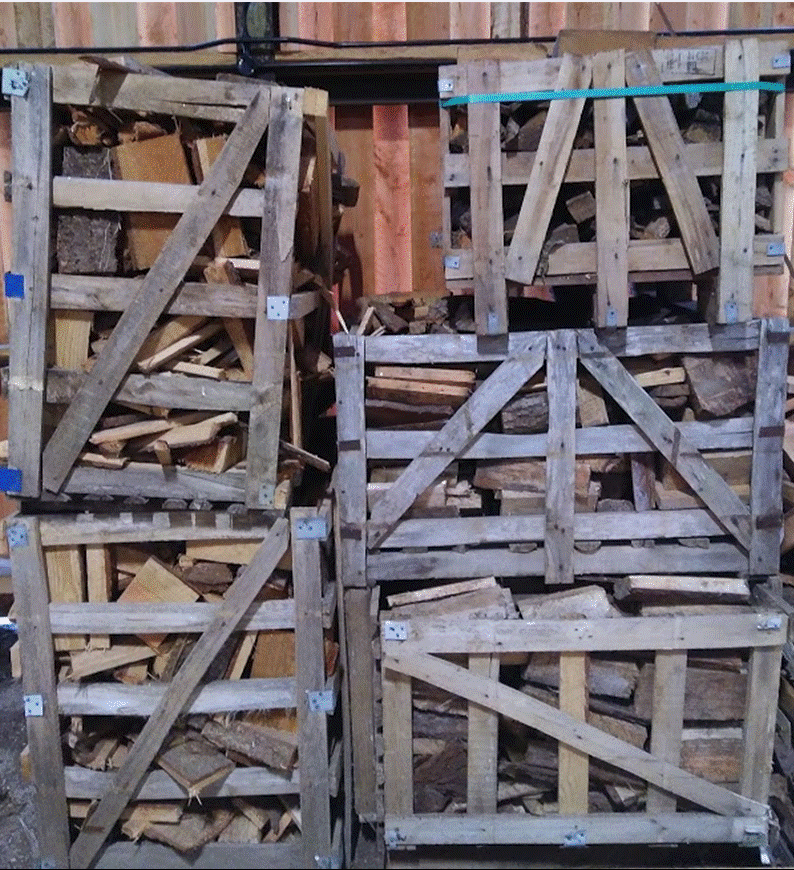 As the log goes through the sawmill we are constantly looking at our cutting list and looking to saw what we can out of it that will meet customers' requirements.
Where the portions that are left have too much sapwood, knots, splits or other defects in them, these are the most likely candidates to become firewood. As the following illustration of a log with radial shake defects below shows: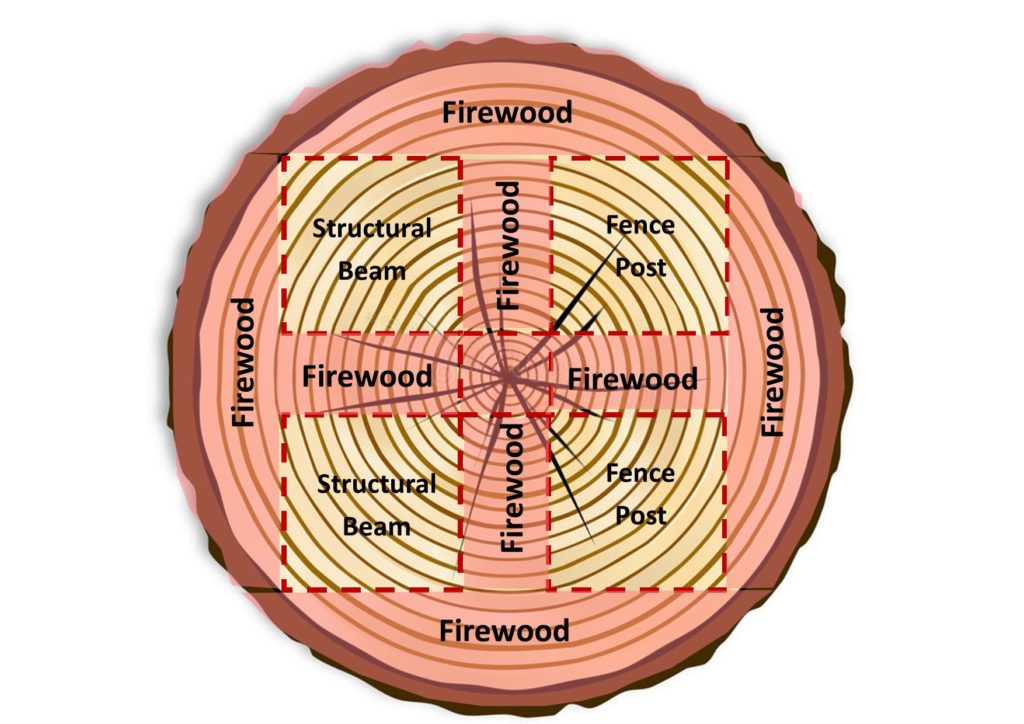 The offcuts are then processed into manageable chunks of fire wood. Cross cut to between 20cm – 25cm in length and split to between 2.5cm – 12cm thick as necessary. These are then carefully stacked into large pallet crates (each approx 1m x 1.1m x 0.5m) to allow for good airflow and to season in our barn for between at least 1 to 2 years before becoming available for sale.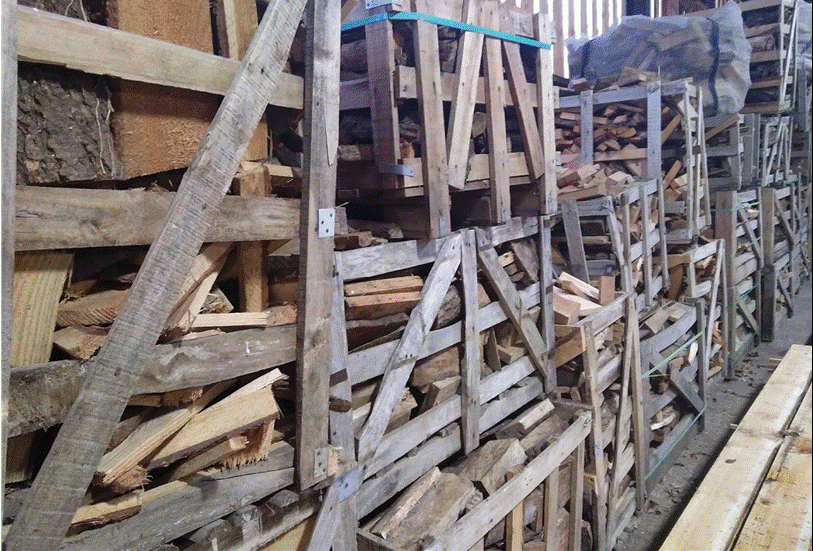 The resulting fully air-dried firewood is just perfect for use in woodstoves, being a mix of different species of wood (mixed hardwoods and softwoods) and sizes. This allows for easy lighting (with kindling sized pieces), good establishment (with medium sized 'mindling') and a steady, constant heat with good burn control (with the full sized firewood lumps).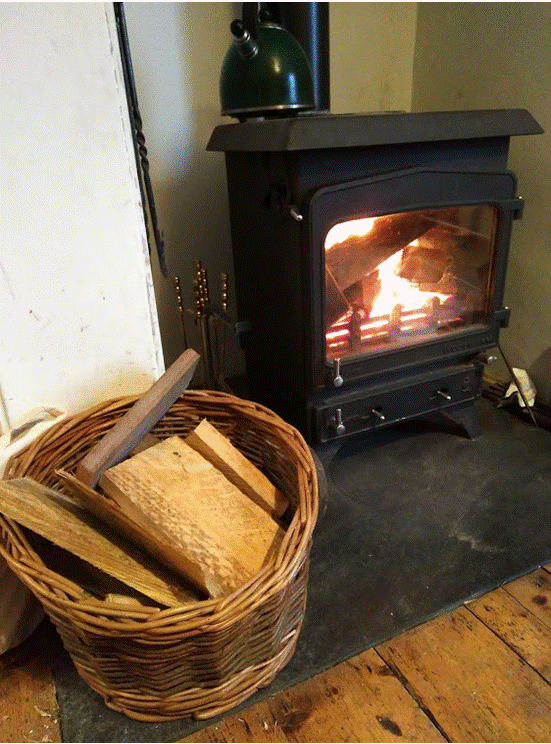 The stove's airflow can be shut down to a minimum and the wood burns slowly but does not smoulder and hiss. The material burns down cleanly to wood ash which is rich in potassium ( 'potash') and other trace elements; a great addition to any garden compost for flowering plants and helps to prevent acidification of the soil.
Smouldering, damp fires cause incomplete combustion giving off unburnt volatiles and moisture from the wood which can cause 'creosoting' problems as they cool and condense in the chimney flue which can, if left unswept, lead to chimney fires.
If you have an open fire and chimney flue you might want to consider investing in a wood burning stove which is 60% more efficient in converting wood into heat and with far fewer particulates being released into the atmosphere. Elaine's Stoves & Flues in Okehampton offer a great service and showroom to view a range of stove options as do Rangemoors at Winkleigh. Devon based manufacturers of Wood burning stoves "Woodwarm" and "Dean Forge" have also come highly recommended.
The joy and merit of all our products is that they are from a renewable living resource which takes CO2 out of the atmosphere. No tree has ever been cut down just simply for firewood by our business. It is always put to a number of uses as the quality and condition of wood in the saw logs it yields, dictate. The net gain is that much of the carbon sequestered from the atmosphere is permanently stored in timber beams and structures whilst the firewood is carbon neutral. So, overall a beneficial outcome in helping to reduce the impact of climate change by CO2 as a greenhouse gas.
After fossil fuels, wood is one of the largest traded commodities, by weight and volume, in the world. Its importance globally as a carbon neutral heat fuel source is huge. If trading in fossil fuels was ever to cease in the future wood will become one of the, if not the biggest renewable fuel source (certainly by weight).
However, not all of our wood in the UK is only fit for burning, as we have hopefully shown here with our website showing off our products. It has uses for structural timber, interior and exterior furniture as well as more aesthetic and natural values.
*NB All prices shown for firewood include a statutory 5% VAT payable on all heating fuel.
Other products…