Sawdust is generated from our sawmill. It tends to be quite coarse, sometimes with stringy kerf and chip, almost like chainsaw kerf. Because we generally mill green* saw logs the sawdust itself is slightly damp but with capacity to soak up plenty more moisture. It may be a mixture of hardwood and softwood depending upon what we might have been milling at the time.
Shavings come from the operations of our mobile log moulder and workshop planer and thicknesser. The former generates a flake-like shaving which is from green* timber whilst the latter is a drier and smaller kind of shaving.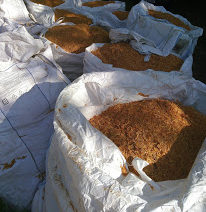 We collect up our sawdust and shavings in standard sized dumpy bags (approx. 90cm cube) and can supply these at £8/bag using our trailer and pick-up to deliver and set down as necessary.
*N.B. Use of the word 'Green' in this context does not strictly relate to colour in the log but also moisture content. Whilst nearly all of our felling work is carried out in the winter when the sap content in trees is as low as it can get (unless it is a standing, dead tree) there is still moisture inherently and naturally bound up in the material.
Other products…