Such material may 'buck the trend' of usual rules which are applied to determine the perceived quality and value of a piece of timber (i.e. straightness of grain, even ring width, lack of knots, heartwood content etc). Be it in buildings or furniture, character timber is defined much more by its aesthetic appearance and qualities.
For example: unusual grain or figuring in the wood; regularity or irregularity of knots; colour and patterns of colour in the timber; bends, curves and waney edges: proportions of sap-wood relative to heartwood: all contribute to the unique quality and appearance of a piece of timber.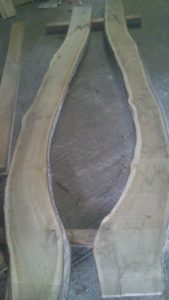 We use the British Appearance grading system for hardwoods to determine the visual quality and character of our timber. Where possible, we apply the same principles of visual appearance grading to softwood in order to provide our customers with a sense of the nature of the stock in hand.
We supply a wide range of home-grown species including English Oak, Sweet Chestnut, Larch, Douglas fir, Scots Pine, Spruce and more.
Browse our stock. We only supply local, sustainably grown timber.
Further information about ordering, prices, delivery, terms and conditions can be found in Customer Services.
Other interior products…